"She appears like a film star as she receives me in her salon in London. The scent of amber and incense immediately creates the atmosphere. A special and warm woman who combines strength with delicacy. What strikes you from the first moment is her total commitment. She is one of those people who use their art as a language. She moves amongst the good and the great with discretion and ease. When you leave you wish to see her again soon, because this is one of those encounters that matter."
---
HAS CLAIRVOYANCE TAKEN YOU FURTHER IN LIFE THAN YOU EXPECTED? WAS IT YOUR CHOICE OR DUE TO CIRCUMSTANCES?
I started practicing clairvoyance to make pocket money while I was studying for my Ph.D. in philosophy in London. I planned to return to Lebanon to be a teacher of British philosophy. Bit by bit I realized that all my predictions were coming true, and that my clientele was growing, which made me take what at first was a hobby with friends and acquaintances, as a serious profession. I knew since childhood that I had this gift, without realising that it would become my profession.
---
TELL ME ABOUT YOUR FIRST STEPS
I was small when it all started. I used to predict exam questions, and the love stories of my girlfriends, let's say the nice things of life. It was at around six years that I had the first vision that affected me: I saw my country torn by war. I saw fire. I saw soldiers and tanks enter the capital. I saw myself leaving. My mother then took me to a psychiatrist who confirmed that I possessed something more, and that I had visions, which was nothing to do with psychiatric disorder. In April 1975, when we left Lebanon, I realized that my visions were in the process of being realized. I was traumatized for a long time. I relate all this in my book.
---
WHAT DO YOU FIND MOST DIFFICULT IN YOUR WORK?
It's when your people do not want to co-operate. Clairvoyance is an exchange between two people. You must be very transparent and reveal yourself with rust. Every session is very intense because I invest myself fully in it. If the person who consults me is reluctant to talk, the exchange is flawed, and help becomes more difficult. By contrast, the more sincere the exchange, the more I can 'see' clearly.
---
DOES THE FACT THAT YOU MIGHT KNOW SOMEONE WELL AFFECT AN IMPARTIAL READING?
No. As soon as I am in front of my cards, I block everything which is personal. Certainly, if it is someone very close, I avoid bad news unless the person explicitly wants to know.
---
WHAT MOTIVATES PEOPLE TO COME TO YOU?
Everyone has a different problem. In general, people who consult me want answers to psychological, emotional or financial issues. I also draw on training in psychology that I followed for two years. I see people who are so upset emotionally that I have to address them with gentleness and modesty. I engage myself psychologically and emotionally. So, in reality, I convey information to my clients in such a way that they can absorb it without upset.
---
DO YOU HAVE TIME FOR YOURSELF IN ALL THIS?
Indeed not. I am so tired at the end of the day that I use the time I have left to recharge my batteries. I do a lot of meditation and healing to be able to carry on.
---
WHAT HAPPENS IN A SESSION AND WHAT TECHNIQUES DO YOU USE?
I work with several decks of cards which give me information and indications. The session lasts one hour. The cards help me to reveal the initials, astrological signs, and often the birth dates of people of interest. So, in general, I note the date of birth. I do numerology and then we start with the cards. I have several decks of cards. I start with big events of the past, and then I broach the future. The more open the person is, the more I can provide details. I also do preventive clairvoyance. I believe in the principle of 'information is power'. In my opinion, when we know what is going to happen, we feel less vulnerable to the upcoming event. But also, it is sometimes possible to go against the flow of things, by advising one attitude rather than another. I give you an example: I have sometimes foreseen a breakup of a couple, and advised on the behaviour that would avoid the situation. This is where psychology comes in.
---
WHEN DO YOUR DREAMS DISTURB YOU?
My dreams do not bother me, quite the contrary. I have premonitory dreams. I often see my grandfather, with whom I had a special relationship, and with whom I maintain a wonderful exchange. No, my dreams do not bother me at all. I happened to dream of explosions in Lebanon, and that is very disturbing. For example, I saw in advance the assassination of Gebran Tueni and François Hajj. I wanted to warn Mr. Tuéni not to return to Lebanon, but it was already too late. I also saw the attack on Pierre Gemayel. I warned all my friends and relatives to avoid Antélias that day. I had the vision of a huge explosion in my dream.
---
WHAT IS THE ROLE OF PSYCHOLOGY IN YOUR WORK?
There are fragile people with whom you have to translate the information you deliver. And that's exactly where one must be careful not to visit charlatans because there many of them. They use and abuse this power to create dependency. I feel very responsible for the people who come to see me, and often friendship takes over thanks to honest and transparent exchanges.
For example, there is this client whom I have known for a very long time and to whom I had planned a marriage with the man of her life. Everything, absolutely everything, pointed otherwise. All was against the success of this marriage. We saw each other regularly for five years. Finally, she got married and I was the guest of honor at the wedding. These are things that affect me a lot. And in this case, I resorted to clairvoyance and psychology. Of course, we had a sincere and true exchange which is an essential factor of success. I remember this story as a big thing in my life. I tell similar stories in my book.
---
ISN'T CLAIRVOYANCE A GIFT THAT SCIENCE DISAPPROVES?
Of course. Numerology and astrology have something to so with science, but not clairvoyance. Clairvoyance is a gift that is at odds with science. This is why no training can create clairvoyants. Of course, meditation seminars or silent retreats help, but clairvoyance studies as such do not exist.
---
IN DAILY LIFE, HOW OFTEN DO YOU TAKE DECISIONS WITH THE BENEFIT OF CLAIRVOYANCE?
I see a lot of things but this does not protect me from mistakes, unfortunately, and bad decisions. For example, I predicted the end of my first marriage - before I even placed the ring on my finger. I used to see a coffin in front of my wedding scene ... I knew it would not be a success, but I still did it. We are all human in the end. And that's how I try to help my clients. We take our departure from the mistakes we make, otherwise we would have faultless lives, which is totally impossible.
---
HOW DO YOU LIVE WITH YOUR GIFT OF CLAIRVOYANCE?
It is a continual struggle I would say, and I do daily work on myself to absorb the shock in a less disruptive way. It is a daily effort.
---
HOW DO YOU EXPRESS IN EXACT WORDS A VISION OR A FLASH?
The choice of words is most important. Clairvoyance is an art. You have to know how to interpret, what to say, and how to say it. When this information is flowing, you have to be responsible for what you say and what you don't say. The choice of words and their understanding is absolutely one of the most delicate things in this business. It's very difficult and that's why I only see three people a day. I get involved so much because I fully embrace the personality and problems of my clients, I am so aware that by end of the day I am very exhausted.
---
ONCE THERE IS AN ONGOING CLIENT RELATIONSHIP, DON'T YOU HAVE THE ROLE OF A PSYCHIATRIST RATHER THAN A CLAIRVOYANT?
No, I can make a difference. There are people I have seen for 30 years. As I told you earlier, it's 50/50. There is no clairvoyance without psychology. There are women I have known for thirty years who have become grandmothers today, and that is wonderful.
---
WHAT IS THE VISION THAT MOST AFFECTED YOU?
That of the marriage that I told you about. And also that of the death of Gebran Tueni, François Hajj and Pierre Gemayel. I took a long time to recover.
---
WHAT CAN CAUSE A MISTAKE IN YOUR WORK?
When communication does not flow, or the other person does not open up. This may be 20 to 30% of the time. In these cases, I request to end the session, in all honesty. Usually, I would feel it as I first open the cards.
---
HOW DO YOU ORGANISE TO SEE ALL YOUR CLIENTS?
I work between Beirut, Paris and London. I am based in London, and I return to Lebanon three or four times a year because I do not like clairvoyance by phone. I can not do it, and I am opposed to it. I prefer to travel to meet my clients, because exchange is more fluid and more sincere face to face.
---
WHICH HIGH PROFILE CLIENTS CONSULT YOU?
Unfortunately, I cannot give you names. I am bound by a complete confidentiality agreement with my clients.
---
YASMINA'S THOUGHTS
A date that marked me
There are many dates that have marked me
---
Someone who influenced me
My grandparents. They represent a model of kindness and generosity.
---
My mentor in my profession
A clairvoyant in Paris who helps me enormously
---
My keyword
Gift and empathy
---
My life in 3 words
Bohemian, dreamy, rebellious
---
What is left of the child in me?
Everything
---
If I had to choose my sign of the zodiac?
Taurus, because they are usually lucky
---
Which of my five senses is the most developed?
The sixth! But in reality, sight and hearing is called clairaudience
---
A gift I would have liked to have?
To be more practical
---
A gesture that I like?
To hold someone I love in my arms
---
A gesture that I do not like?
Aggressive and too familiar gestures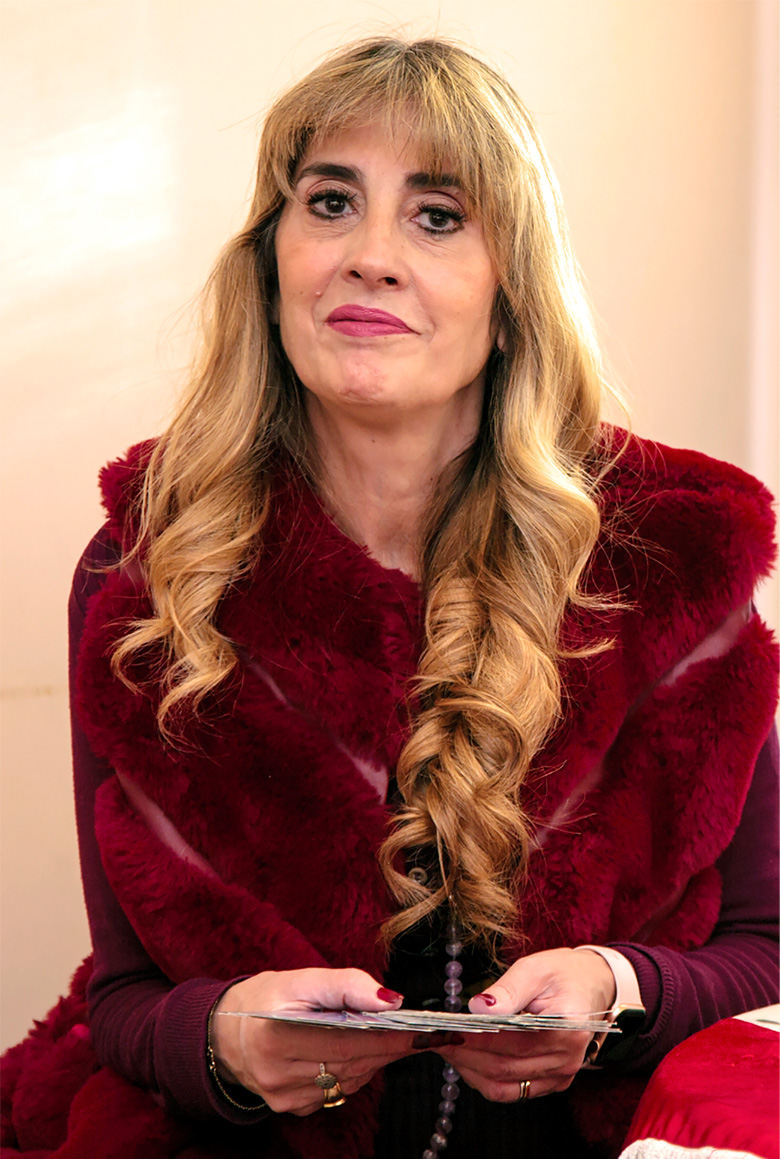 The unseen world is
yet to be discovered,
let us discover it
together